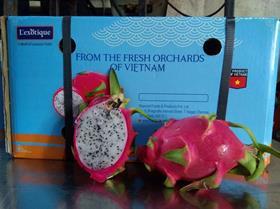 WayCool Foods, one of India's fastest growing agribusinesses, has launched a premium range of dragon fruit under its L'exotique brand.
The dragon fruit, sourced directly from orchards in Vietnam, will be available across locations in Mumbai and Bengaluru, Vadodara, Bhopal, Pune, Hyderabad and other cities in Maharashtra and Gujarat.
The dragon fruit is a further addition to the L'exotique range of premium fruits, which also includes apples, oranges, pears, kiwifruit, avocados, cherries, grapes and more.
Amrit Bajpai, head of L'exotique and chief operating officer of Waycool Foods, remarked at the exotic appeal dragon fruit has among consumers.
"It is a relatively new entrant into the Indian fruit-bowl," said Bajpai. "India has shown a huge demand for this fruit, and we are extremely happy to introduce the finest quality of dragon fruit on offer.
"While the season for locally grown dragon fruit only lasts five months, the Vietnamese variant will be available for Indian consumption for almost 10 months of the year. We are excited to launch further products to our range such as Ratnagiri alphonso mango from India and high-quality oranges from Africa.
"With this, L'exotique is all set to establish a new benchmark for managing premium fruit supply chains in India," he concluded.