Heavy rains compound challenge of rising costs for Malaysian fruit and vegetable growers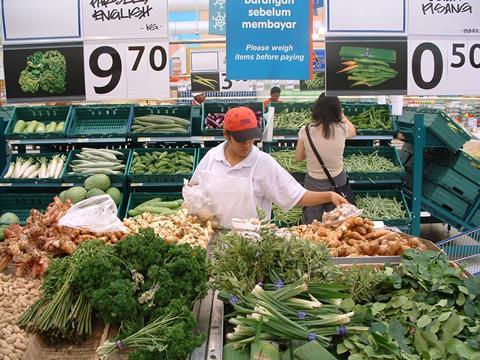 Malaysian growers have predicted yields to drop after being subjected to damaging rains and increasing production costs.
According to a report from The Star, fresh fruit and vegetable growers are feeling the effects of compounding challenges.
Cameron Highlands Vegetable Farmers Organisation president Datuk Chai Kok Lim said yields in the key vegetable growing region could drop by 20 to 30 per cent.
"If it rains once or twice a week, it's still okay. But it has been raining almost daily in the afternoon and sometimes in the morning," said Lim.
"Among those that will be impacted are iceberg lettuce, Chinese cabbage and most leafy vegetables.
"We are constantly monitoring the situation and hope that the rain will only last for another two weeks," he said, adding that he expected prices to go up in tandem.
Prices have already increased for vegetables such as chillies, eggplants, lady's fingers, tomatoes and long beans.
Johor Fruit Farmer Association chairman Francis Hong Sun Ho said around 30 per cent of Malaysia's fruit growers had left the industry in the past two years.
"The increase in rainfall started about two years ago when we were also being burdened by the Covid-19 pandemic," said Hong.
"Many farmers were unable to cope as they had to bear higher costs for lower yields. Some decided to do away with the fruit business for other options, such as producing palm oil. This has further affected fruit production in the country."
Hong said local growers were also facing increased competition from imports.
"At the same time, we are unable to increase prices too much to cover the extra costs as middlemen are not keen," he said.
"For example, the heavy rain has reduced our local production of bananas, causing a shortage. So, we are now importing more bananas from countries such as Vietnam that are able to produce the fruit at a lower cost."