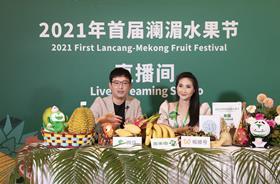 China'sMinistry of Agriculture and Rural Affairs has organised a fruit festival to celebrate the fifth anniversary of the Lancang-Mekong Cooperation (LMC).
The first Lancang-Mekong Fruit Festival was held in Beijing with WeChat Channels used as the exclusive livestream platform partner.
The Festival's launch ceremony on 9 July was livestreamed on WeChat Channels, and diplomatic envoys of the other five LMC countries - Cambodia,Laos,Myanmar,ThailandandVietnam - were invited to the virtual room where they interacted with viewers from all overChina.
They explained the merits of the fruits from their respective countries and elaborated on the LMC mechanism in agriculture.
Pagoda, one of the event hosts, launched aone-yuanflash sale on Channels to promote premium tropical fruits including durian, mangosteen, coconuts, dragon fruits and bananas, all of which were quickly snapped up.
The launch ceremony was attended by over 100 representatives from several Chinese ministries, as well as the other LMC embassies and the UN Food and Agriculture Organization Representative Office inChina.
Thousands of fruit stores from across China are expected to participate, which should see fruits from the other five LMC member countries sold in shops and food stalls in more than 100 Chinese cities.
Launched in 2020 WeChat Channels allows all users to record and create content. Livestreaming is an increasingly popular tool for the Chinese agriculture sector and WeChat regularly organises events aimed at helping farmers leverage the new digital technology to boost their income.