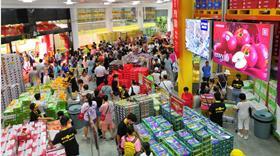 WellFruit has opened its first flagship store in Jingqiao, Shanghai with a two-day launch event attracting more than 10,000 customers.
The new store features over 300 SKUs of fresh fruits, of which around 80 per cent are sourced directly from orchards locally and overseas. Imported fruits are sourced form from 26 different countries in five different continents.
Chief executive Amy Cao, and general manager Jiawei Feng officiated the opening on 12 September attended by representatives from major partners including Zespri China and Joy Win Mao.
Across the two days there were more than 8,000 transactions and consumers spent US$100,000 with an average purchase of US$12.50.
The store occupies more than 900m2 and features an elevated ceiling and in-store cold storage facilities to maximise shelf-life.
WellFruit, which currently has 50 stores in Shanghai and nearby regions said it plans to add another flagship store in in the city of Wuxi, Jiangsu.