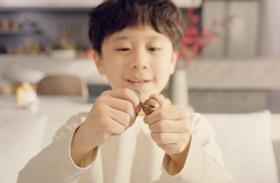 The World Macadamia Organisation (WMO) has launched its first marketing campaign.
Targeting mainland China, the 'Open Together'campaign focuses on in-shell macadamia consumption.
The campaign's centrepiece is a social video that depicts a disconnected family coming together to enjoy a new ritual of cracking and eating macadamias.
The video was released in January to tie in with Chinese New Year celebrations.
WMO chief executive, Jillian Laing, said the campaign's creative execution leveraged insights from in-depth research carried out with Chinese consumers.
"A key finding was that for Chinese people, food consumption is holistic and highly nuanced. It incorporates preparing or opening the food, its aroma and mouthfeel, chewing, digesting and after-taste," Laing said.
"Macadamias are a good fit for Chinese food culture, as they offer a full eating experience that encompasses choosing, opening, eating and enjoying the nut."
The campaign has been designed to extend macadamia usage beyond the current concentration at Chinese New Year.
"We want to encourage the ritualisation of special family moments around key festivals involving macadamias" said Laing.
The campaign – which will continue to run on Weibo, WeChat, TikTok and Little Red Book – will be supported by influencer marketing and a host of online and offline activity throughout the remainder of the year.
Laing said the decision to launch WMO's first campaign in China was reflective of the growth in this market.
"China is an important market for macadamias," she said. "Its share of global macadamia consumption was just 5 per cent in 2015 but by 2019 it had climbed to 25 per cent," Laing explained.
"China has led the wave of innovation and adoption of nut-in-shell consumption, where consumers use a special cracking key to consume directly out of the shell."
Established in 2021, WMO is an independent not-for-profit organisation that promotes macadamias globally.