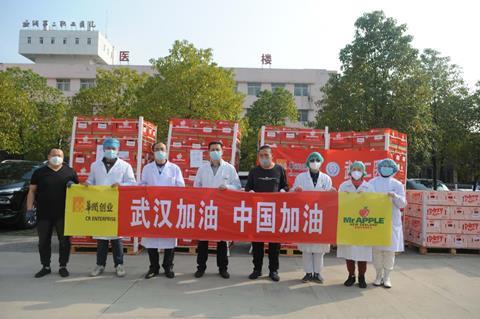 Two hospitals in Wuhan have received over 1,000 cartons of new-season apples, thanks to a generous denotation from a leading New Zealand exporter.
Mr Apple, together with its partner China Resources Enterprise, supplied the medical facilities with 1,176 cartons of fresh New Zealand-grown fruit.
The donation comes as Chinese channels reopen to imported fruit following the coronavirus (Covid-19) epidemic, which is believed to have originated in Wuhan.
"With China as one of Mr Apple's largest export markets, we have seen the challenging conditions across all channels in China but have been moved by the commitment and hard work shown by all during this difficult time," said Ben McLeod, global sales and marketing manager of Mr Apple.
"We have been in discussions with our Chinese partner, China Resources Enterprise, to come up with a meaningful way to say thank you to those in Wuhan and to show, even in small way, our support for their efforts."
Mr Apple's season kicked off in China in February, with a small airfreight shipment of the new, early-season variety Posy, which was sold online until late February.
Mr Apple expects the first shipments of another new variety, Dazzle, to land in China by early April. "[We] expect this new, robust, deep block red apple [Dazzle] to quickly take China by storm," the company said in a release.
Despite the challenging situation in China, Mr Apple remains hopeful about its long-term prospects in this market.
"Given what we're seeing and hearing in China we're reasonably optimistic China will recover and bounce back better and stronger than before," McLeod said.
Mr Apple reported its 2020 apple crop is "looking beautiful", with global shipments from New Zealand increasing daily.
"Average fruit size is up from 2019 and apple colouration is fantastic, with consistently red, deep coloured fruit," the release added.