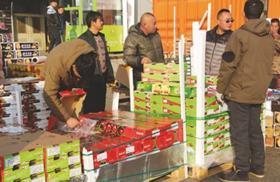 Xinfadi market, Beijing's largest fruit and vegetable wholesale market, is set to open on 15 August, two months after it was shut down in response to a Covid-19 outbreak.
According to a report from Xinhua, officials said part of the market will reopen initially, recovering about 60 per cent of normal transaction volumes for fruit and vegetables, while the rest will resume business before 10 September.
The market, which is said to provide around 70 per cent of Beijing's vegetables, was originally closed on 13 June and 335 confirmed Covid-19 cases were eventually linked to a cluster of infections in the market.
The report said no confirmed cases have been linked to the market since early July.
Zhou Xinchun, executive deputy head of Fengtai District, said in a press briefing new measures will be introduced to help prevent future outbreaks.
The market will cease its retail business, closing its doors to individual consumers and sellers and buyers will be required to complete authentication before entering the market for transactions, Zhou said.
A 1,000m2 vegetable market has been set up outside the wholesale market to meet the demands of nearby residents.
Zhou also said traders must also register information on their farm produce and the market will pilot electronic trading to ensure that all the commodities and transactions are traceable.
Other hygiene and safety measures such as once a day disinfecting and temperature checks will be implemented as well.
Mao Yongxi, a vegetable wholesaler at the market, told Xinhua the reopening comes as a great relief for traders.
'My business will return to normal, as people are returning and the market will do well,' said Mao.
'With several temporary trading areas having been put into operation, my business is recovering. Finally, the day is coming when the market will reopen."