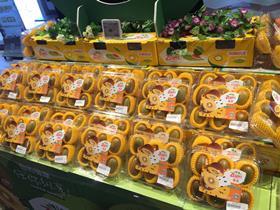 Zespri's first charter vessel to China of the 2022 New Zealand kiwifruit season has set sail, packed full of Zespri SunGold.
The MV Star Spirit is the first of over 20 charter vessels to China planned by Zesprithis season and departed Port of Tauranga on 24 March. It followed the departure of the first charter vessel of the season, the MV Solent Star, which travelled to Japan.
"Loaded with over 1.38m trays/5,000 tonnes of Zespri SunGold kiwifruit, the Star Spirit is due to arrive at Damaiyu Port in Taizhou, Zhejiang in early April," said a Zespri spokesperson.
"This marks the first time Zespri Kiwifruit will unload in Taizhou, where the port was recently officially opened for inbound international fruit, and will become another entry port for Zespri kiwifruit in China going forward. We look forward to fresh, safe and great-tasting Zespri kiwifruit arriving shortly for our Chinese customers and consumers."