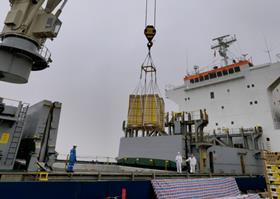 China received its first shipment of New Zealand kiwifruit at the beginning of April marking the start of Zespri's 2021 campaign in the country.
The 3,500-tonne shipment consisting of 1m retail cartons arrived in Shanghai on 1 April in time for China's Qingming Festival.
Zespri has worked closely with regulatory agencies in New Zealand and China to implement safety, quarantine and disinfection measures throughout the supply chain to ensure the safety of the fruit arriving in China.
This year Zespri will also introduce its new red flesh variety, Zespri Red, to Chinese consumers for the first time.
Zespri said it expects to send 20,000 cartons of Zespri Red to China in 2021 and is working with online platform Tmall and leading fruit retailer Pagoda to sell the new offering.
Michael Jiang, Greater China general manager of Zespri, said sales in China, one of Zespri's key markets, are projected to increase this season.
'China is of great significance as Zespri's largest market in the world. Zespri's sales in the Greater China market has gradually ranked first in the world, and it is close to 30 per cent of Zespri's global business," saidJiang.
"This year's sales are expected to increase by 10 to 15 per cent compared to last year. The Chinese market has huge potential. Although last year's pandemic severely hit the global fruit industry, we are still confident in the future Chinese market and are fully confident of our high-quality products.'