Banana association Acorbanec calls for renewed dialogue as tensions rise amid worsening economic situation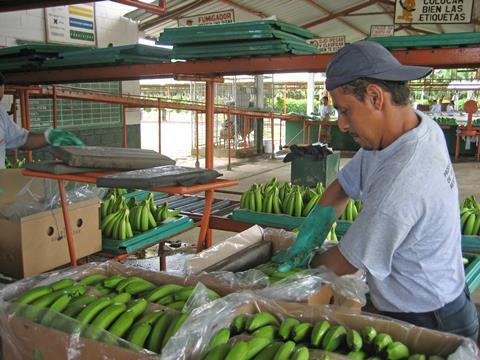 Ecuadorean banana association Acorbanec has denounced an indefinite national strike called by indigenous workers, claiming it will worsen an already precarious situation for the country's banana sector.
The Confederation of Indigenous Nationalities of Ecuador (CONAIE), backed by banana producers, anti-mining groups and several social organisations, began the walkout on Monday in protest at President Guillermo Lasso's failure to deal with the country's worsening economic situation.
Among other things, CONAIE is demanding that the government cut fuel prices and interest rates and impose a one-year moratorium on debt repayments. It is also calling for the non-privatisation of strategic sectors.
From the early hours of Monday, CONAIE had blocked highways in Guayas and other provinces including Pastaza and Napo.
In a statement, Acorbanec said: "Ecuador has been facing a severe economic crisis that, added to the Covid, led to large business losses, jobs and an increase in poverty, and which was further complicated by the shipping crisis and the conflict between Russia and Ukraine.
"Our country, to overcome the crisis, needs to work together social, productive sectors and the political class, to generate more employment and improve the quality of life of Ecuadoreans.
"Due to the foregoing and in view of the announcements of work stoppages in the country by certain political and social sectors, Acorbanec categorically rejects the announced national strike and closure of roads, which threaten the normal development of activities in the country and we encourage dialogue as the main mechanism for solving problems."
Ecuadorean banana exports fell 6.44 per cent in the first quarter of 2022 to 126.8m boxes, according to Acorbanec. Shipments to the European Union were down 11.7 per cent on the year-earlier period.
This decrease in exports was due to a lower harvest caused by adverse climatic conditions and the elimination of active substances allowed in the EU. An increase in the price of fertilisers also affected production, Acorbanec said.
The current protests come at a dangerous time for the government. A few days ago, authorities approved a regulation that broadens the powers of the police and the army to use force.
The government recently announced a financial aid package for more than 4,000 small banana producers to help mitigate for the losses suffered by the conflict in Ukraine and to fight Black Sigatoka. Ecuador sent around US$800m of bananas to Russia and Ukraine last year.
President Lasso said political groups seeking chaos could not be allowed to paralyse the country just as it begins to emerge from the Covid pandemic. He said the government would "not allow the interruption of roads and the paralysis of public services".