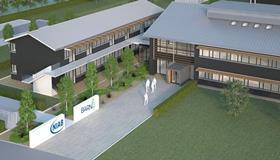 NIAB has been awarded £2.5 million of funding from The Cambridgeshire and Peterborough Combined Authority to construct a 375 sq m business incubator on its Park Farm site in Histon in Cambridgeshire.
Barn4 will be open to tenants from spring 2021, with start-ups and SMEs offered laboratory, workshop and office space, meeting rooms and video-conferencing facilities. In addition, they will be able to get access to NIAB's high-performance computing capability, specialist laboratory facilities and both indoor and outdoor growing spaces.
According to NIAB, demand in Cambridge remains strong for these facilities despite the impact of Covid-19 on office working. The agritech sector continues to grow and incubator space in and around the city is heavily oversubscribed, it added, and the offering of state-of-the-art technical facilities and links to NIAB, the Cambridge technology cluster and the wider agricultural sector will be ideal for early-stage companies to grow and flourish.
Dr Juno McKee, director of NIAB Ventures, said that Barn4 will provide facilities for up to 15 companies with 45 staff. "NIAB will work with a network of commercial and academic partners to provide a complete ecosystem within which technology-driven start-ups and spinouts can thrive," she explained.
The new building will be an addition to NIAB's recently redeveloped Park Farm field research station, which includes two new large research and office buildings (5,500 sq m), 2,500 sq m of research glasshouses with an additional 300 sq m planned, 3,000 sq m of protected outdoor growing space and field trial plots.
The Cambridgeshire and Peterborough Combined Authority mayor James Palmer added: "In the wake of Covid-19 it is more vital than ever that we level up the economy of the region as we rebound and renew, and if we are to recover quickly and fulfil on the promise of our region we have to take risks and promote disruption in the market.
'Agritech is one of our key growth areas and I am absolutely delighted that the Combined Authority has enabled NIAB to create Barn4, which will help the sector expand and flourish. I am passionate about supporting innovation and entrepreneurship, and Barn4's nurturing environment for young companies will help groundbreaking startups to flourish. I look forward to seeing the birth of world-leading technical solutions to agricultural challenges and opportunities as Barn4 opens and develops from 2021."