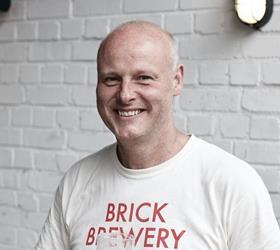 A drink for the common man, beer in Britain wasn't the most progressive of scenes at the beginning of the 21st century. The sacrosanct combination of hops, barley, yeast and water was not seen as something to mess with, and drinkers of a certain age will remember when international beer brands ("Big Lager") and warm bitter, were the only options for pubgoers.
Yet in the beer world a sea change has been quietly shaking up the market over the past decade, as a boom in experimental craft beer companies, starting in the US and Canada, began making novel beer concoctions, and London is quickly catching up. Beneath rumbling arches or in old warehouses, craft breweries have been sprouting in the capital and across the UK over the past few years, and fruit is one of the big new ingredients.
"Fruited sours have certainly seen an increase this year. Drinkers are looking for more complex flavour combinations and this is no exception in the beer market," says Ian Stewart, founder of Peckham-based Brick Brewery.
"Since 2017 we have been experimenting with the sour style and as a result we now launch a fruited sour beer every month. These beers are incredibly popular due to their unique flavour profile. We use around 100kg of fruit in every beer we make," he adds.
One of the big primers for the growth of fruit beer was the rise in sales of IPA and pale ales in the UK, particularly from American brands, which contain natural sour and fruity flavour notes.
"The beauty of the pale ales and IPAs that we're seeing which use fruit is that flavour-wise it's maybe not a huge departure from other pale ales and IPAs, more of a supercharged version of similar flavours. So they are very readily accepted by drinkers of those styles," says Robbie Sykes, operations manager at Orbit Beers, a craft brewery based in Walworth.
"There's been a definite increase in uptake for their use as brewers have experimented using fruits in beer where previously we wouldn't have expected to see them. Whereas a few years ago fruity flavours were sought from new-world hops, now they're also sought from the fruits themselves," he adds.
Tom Palmer, head brewer and co-founder of Mondo Brewing Company, based near Battersea Power Station, produces a range of fruit beers, from rhubarb to mango flavour. "You can pick out all kinds of flavours in the beers already, and as a brewer I just attempt to bring out the flavour already there," he says.
Top of the list are citrus fruits, which complement the bitter flavours of pale ales well. Grapefruit IPAs are almost becoming normal, while tangerines, lime and even Japanese citrus fruits sudachi and yuzu are being added. Yet this is just the start, with fruits that have a less aligned flavour now going into beer. Palmer says he used figs and plums in a recent brew, while berries, stonefruit and exotics such as mango and pineapple are proving popular.
"I try not to think of ingredients in terms of limits. What's happening in the US is inspiring; the sky's the limit. The level of experimentation is becoming absurd," says Palmer, who cites a lobster-flavoured beer produced in the US as an example.
"We've repeated a number of our limited-edition fruited sours – rhubarb, strawberry and cucumber, watermelon and lime," says Stewart. "But we always like to push the boundaries by combining unusual adjuncts such as pineapple and matcha tea, pink guava, raspberry and thyme, blackcurrant and sumac. We always sensory taste to ensure the combinations work before brewing."
While much of the fruit is bought and added in purée form, as part of the craft ethos brewers are also buying wholehead for more control over the creative process, either to ferment themselves or add as a juice.
"We want to make our fruited sours seasonal and we are very price sensitive, so we will buy whole fruits and process in-house when we can and it makes financial sense, but we also source pre-puréed fruits if we cannot source the whole fruits. We try to buy locally, from Deptford market primarily, but if we can't, then we look elsewhere," says Stewart.
Palmer says: "For juicier fruits you don't want more than 80 to 100 grams per litre, but for blackberries, cherry and passion fruit we'll add 200g per litre. That's a signifcant amount of fruit."
Wholesaler Langridge Organic supplies several brewers including Mondo and Norfolk-based Duration Brewing. Owner Alex Pearce says brewers have an affinity for organic produce, which contains less residue as well as lacking wax on fruit skins.
While admitting it's currently a small part of his customer base, Pearce believes the popularity of craft fruit beer could see a greater range of fresh produce bought from the market. "Most of who we deal with are small-batch breweries," he says. "Most business with them is as and when it comes. Is it up and coming? Yes. Is it going to make us a lot of money, is it huge volumes? No."
He notes that it's not fruit alone that has potential, with vegetables falling into the scope of what is a very adventurous industry.
"We had one customer that wanted purple carrots which they made into a mash and they used it to get the colouring. It has potential, and it might be an area that we develop more. Collectively, it's small for us, but certainly the small collective can build into something bigger," Pearce reflects.
Grape gin a hit with customers
One of the biggest stories in alcohol retail this year was Richard Hochfeld teaming up with Foxhole Spirits to launch Hyke Gin. The Kent-based fruit supplier sought to make better use of surplus grapes, which had been going to animal feed or anaerobic digestion.
Richard Hochfeld's managing director Alan Guindi says: "The challenge initially was how to reduce our food waste. We bounced a few ideas around, until Karen Cleave was the one who came up with the idea for a gin."
Technical director Cleave said that Richard Hochfeld produces several hundred tonnes of surplus grapes each year after the bunches are pruned to fit into packaging.
Richard Hochfeld contacted Foxhole Spirits to see if they could make a spirit out of them. "We sent them some grapes to experiment with. We wanted to do a premium gin, and we came up with this product. Tesco listed it straight away. It's been selling really well."
The gin has also gained recognition from above, winning gold in the 2019 International Wine and Spirits Competition for best Contemporary Gin.