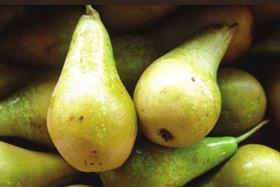 The NFU is calling for national food security to be part of a recovery from Covid-19, to mark the unofficial day when Britain would run out of food if it consumed only what it produced.
NFU president Minette Batters called for a "horticultural revolution" to increase homegrown production, with the UK now 64 per cent self-sufficient in food.
At nearly two thirds of what we consume, that would be enough food to last until August 20th, from the beginning of the year.
Domestic fresh fruit and veg production still lags behind many European countries. The UK produces 18 per cent of its fruit, and 55 per cent of its vegetables. It is also 71 per cent self-sufficient in potatoes.
For both veg and potatoes, self-sufficiency has declined 16 per cent in the past 20 years.
The high-point of British production was in 1984 when it produced 78 per cent of all food consumed within the country.
NFU President Minette Batters said that food self-sufficiency was of increasing importance in a globalised world prone to widespread shocks such as the coronavirus crisis.
"Our self-sufficiency in vegetables and potatoes is falling and it's low in fruit. We can and should drive a horticulture revolution. At a time when we should all be eating more fruit and veg, we should be looking to our farmers to deliver more quality, affordable and home-grown fresh produce to our shelves," Batters said.
"This will need government investment in agriculture and, crucially, our water infrastructure to better manage increasingly volatile weather. Better water infrastructure can allow us to use one of our most abundant natural resources in rainfall to more effectively grow food and take a more integrated approach to water management.
"Farmers are uniquely placed to improve their productivity while delivering for the environment. It is crucial there is investment in agriculture as part of our green recovery in order to increase our food security, level up rural economic growth, drive green job opportunities, stimulate demand for rural tourism and help deliver the NFU's ambition for British farming to be net zero by 2040."