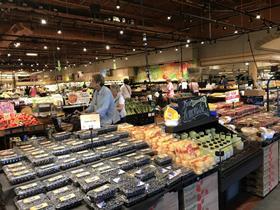 I can never manage a shopping trip in the UK without spending an inordinate amount of time perusing the produce, critiquing a new POS display or getting excited about some spangly, resealable packing concept. And since moving to upstate New York, I have a whole new world of aisles and products to 'trendspot'.
Trendspotting upstate as a non-working mother of two is maybe a little harder than if I was living somewhere near Central Park. It would be completely different in Manhattan, where I might be eating in funky bistros, trying the coolest street food and strolling casually through early morning markets. Elsewhere in the US, I think super health-conscious and sun-drenched California is responsible for starting some genuinely worldwide trends. But my theory is that any trend that can make it out here in suburbia has some true staying power.
The second challenge in spotting a trend having never been to the US before is that I don't really know if something is new, because it could have been that way in the US market forever. For example, most shops here have yellow courgette, often called yellow squash, rather than yellow zucchini. It is sometimes loose, but most frequently sold in a mixed pre-pack. I love it, I use a lot of courgette in my cooking and the variety is great. While available in the UK, they aren't the staple they are here.
My first impression of US retailers is that the shopping experience is more polarised. The premium retailer devotes significantly more space than any of its UK rivals to produce. Space is not as significant a premium here; there is plenty of it to be had generally. On the other hand, the bulk of the market I have experienced to date devotes significantly less space to the produce section as a proportion of the store. Areas of the stores such as candy, biscuits, crisps, soda and tinned food win larger proportions of space.
While some names are new, Aldi provides a comforting familiarity as store layout and proportions match the UK and Europe. All retailers are located in out of town centre trading parks, known as plazas, often accompanied by large wine stores as New York state law forbids the sale of wine in food retailers. There is no express or convenience format to speak of here in suburbia.
As a produce geek, but primarily as a consumer, in this new monthly column I am going to share what excites me, what works, what infuriates and what I will be writing home about.