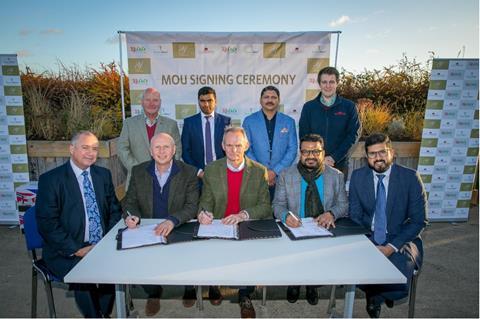 In partnership with Growers Direct, Adrian Scripps has exported 100 containers of British apples to LuLu hypermarkets in the Middle East over the past two seasons, the Kent apple producer has announced.
In recognition of the achievement, Growers Direct, LuLu Hypermarkets and Adrian Scripps have signed a Memorandum of Understanding to continue growing the relationship.
LuLu Group International's company director Mr Salim M.A. and the company's director of fruit and vegetables, M Zulfiker Kadavath, visited Adrian Scripps' packing facilities in Kent on the 25 November for the signing ceremony.
Adrian Scripps MD James Simpson said he was "extremely pleased to be working with LuLu and Growers Direct to supply high-quality British apples to a decerning customer in a very competitive market".
"There is clearly a demand for British apples with LuLu's customers, and we are very happy to meet this demand," he added.
Patrick Broadhurst, managing director of Growers Direct, commented: "I have known the Scripps business for many years and am extremely pleased with the way we have worked together to meet the demands of exporting. We hope to continue developing the export business with them."