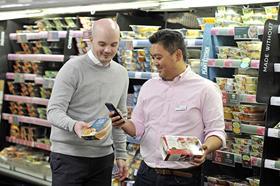 An agricultural supply chain start-up is among the selected companies to partner M&S' new business innovation scheme.
M&S' new project is a joint venture with Founders Factory, which started in 2015 to help drive innovation and encourage budding start-ups.
In its first year, M&S has partnered with six fast growth start-ups, chosen from over 100 candidates. The duo picked out agricultural platform Cogz to partner after its concept impressed selectors.
Cogz is a marketplace for farmers, growers and producers to sell surplus produce direct to trade buyers before it becomes food waste.
Major British food producers such as Berry Gardens, Bardsley England and Avalon Growers PO have already joined the platform.
Jeremy Pee, chief digital and data officer at M&Ssaid: "M&S is changing to create a more entrepreneurial, empowered and digital first mindset across the business. Expert partnerships like Founders Factory are catalysts for that cultural change - enabling us to work with and learn from the disrupters and not be the disrupted.
"From subscription delivery models, 3D scanning technology to disruptive new product platform, Founders Factory Retail is parachuting alternative ideas into the business and exposing teams to innovative thinking."
The selective assessment process for start-ups is led by a dedicated investment committee made up of colleagues from M&S and Founders Factory.
Over 1,200 colleagues across stores and support centres have been engaged in the Founders Factory partnership, from attending showcase events through to providing insight and data to help the business assess which investments to pursue.
Daniel Himsworth, Founders Factory Lead at Marks & Spencer, said: "Founders Factory Retail is putting us at the front of the queue to benefit from the next biggest trend or technology that will help us better serve our customers.
"We've had a great first year and seen a wide range of exciting businesses, but, really, we've only scratched the surface of what our JV with Founders Factory can do for M&S. We're therefore looking forward to year two and working with our second cohort of start-ups."