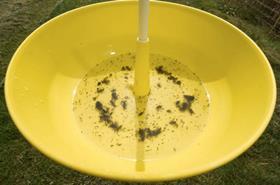 Prevention is better than the cure, the proverb goes. And in AHDB Potatoes' view, it's certainly a big part of the solution where crop protection is concerned.
From now on, the levy board says it will highlight pest prevention, in conjunction with pest detection and control, as key elements of any Integrated Pest Management (IPM) strategy recommended to growers.
To that end, any new crop protection knowledge, tools and approaches AHDB delivers will be organised in a 'prevent, detect, control' framework, reveals Sue Cowgill, AHDB Potatoes' crop protection senior scientist (pests), in a bid to help growers adapt to a world where fewer pesticides can be used.
Citing the board's work on aphids and virus transmission in seed potatoes, Cowgill says minimising the amount of virus in the environment is important to prevent the problem, "for example through the better management of groundkeepers".
Meanwhile, sampling, monitoring and forecasting using a network of yellow water traps helps detect when and where aphids are present and therefore the risk of virus transmission. At the same time, trials at AHDB's Strategic Potato (Spot) Farms network are looking into alternative control options that might be used in place of, or in conjunction with, conventional insecticides.
"Trials at Spot East have studied mineral oils and bioprotectants, whilst a two-year research project is evaluating the integration of physical controls – mulch and vetch – with insecticides and/or mineral oils," says Cowgill.
Potato Cyst Nematodes (PCN), meanwhile, pose a threat to potato seed production in some areas and are an ongoing concern for both the fresh and processing sectors, she explains. To make matters more challenging, the conventional pesticide Vydate 10G was not re-authorised by the UK government in December 2020, thus placing renewed emphasis on IPM approaches to tackling nematode pests.
"Our work shows that there are increasing numbers of varieties with good levels of resistance, which could prevent their occurrence," reveals Cowgill. "Meanwhile, soil sampling is vital to understanding to detecting which nematode species is present, as varieties are often only resistant to one species. As far as control is concerned, recent work has focused on the use of 'trap crops' that allow the PCN to hatch, but then aren't a suitable host resulting in a reduction in PCN numbers in the soil."
Other ongoing AHDB IPM potato projects are focusing on slugs, late blight, blackleg and weeds, Cowgill says.
"When it comes to crop protection, there are two main ways we can help," adds AHDB Potatoes' interim chair Alison Levett, speaking ahead of the result of the yes-no vote on the continuation of the levy. "Firstly, providing the research, data and networks to help growers prepare for a world with fewer chemical options for crop protection. But also applying for emergency-use applications, to ensure that where there are no alternative options, crop protection products remain available."