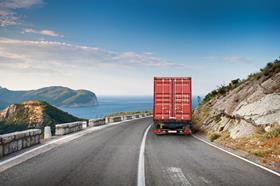 With intensifying lockdown restrictions coming into force, logistics companies must invest in machine learning rather than relying on historical data, the UK head of global logistics firm C.H. Robinson has advised.
Nick Ghia, general manager for northwest Europe at the multi-modal transport platform provider, is urging businesses across the country to learn lessons from the national lockdown in March.
His call comes as more regions of the UK are upgraded to Tiers 2 and 3 of the government's new three-tier system for managing the Covid-19 pandemic, with cases growing rapidly in recent weeks.
"More than half the total number of people in the UK are under some sort of lockdown," said Ghia. "This isn't just happening here but also across the world, affecting global, national and local supply chains.
"It's therefore imperative that businesses across the UK build in new levels of visibility and resilience to their logistics operations to avoid the supply issues that they encountered when the pandemic took hold six months ago.
"The problem is that too many companies rely on historical data to predict demand and therefore supply. These rules have gone out of the window with the turmoil caused by the pandemic.
"So, for example, last year's Christmas trading trends will bear absolutely no relation to the festive period this year.'
He added: "Supply chain professionals will have to get used to lockdowns as we continue to fight the coronavirus. That means reviewing their operations to ensure that they have the means to predict the unpredictable so they can circumnavigate whatever is thrown at them.
"Machine learning and artificial intelligence are no longer a nice-to-have but a must in order to be in a position to do this. Such technologies will be critical to feeding supply chain critical insights into transport and production systems used by businesses."
Recently, C.H. Robinson linked its Azure cloud platform with Microsoft's multi-modal transport management platform Navisphere.
C.H. Robinson said the combined logistics solution offers real-time insights and visibility by incorporating machine learning and artificial intelligence.
This supports predictive analytics, IOT device monitoring for greater intelligence on products in transit, data security and increased application speed, according to the logistics firm.
Enjoyed this free article from Fresh Produce Journal and its team of editors? Don't miss out on even more in-depth analysis, plus all the latest news from the fresh produce business. Subscribe now to theFresh Produce Journal.