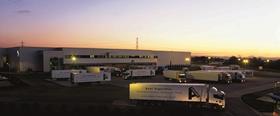 An 'unprofitable' business venture owned by Albert Bartlett is facing closure.
Amalgrow Produce, one of the largest vegetable growers in Jersey, became part of the Albert Bartlett group in January 2013.
But the business' 49 members of staff are now in the midst of a 30-day consultation to assess whether it has a future.
Steve Barker, operations director for Scottish-based produce giant Albert Bartlett, said: "Since taking over the business, despite significant capital investment and restructuring, it continues to operate at a loss, and after two years of unprofitable trading, the directors are reviewing the business to determine whether to continue trading beyond 3 July 2015.
"Despite considerable and loyal support from our retail customers in the Channel Islands, the economics of growing vegetables on such a small scale remains unprofitable. The directors of Amalgrow Produce have entered into a 30-day consultation process with their workforce to try and avoid or limit the number of redundancies if the business is to close."
Amalgrow, formed in 1976, has been a key supplier of locally-grown veg and salads to local supermarkets, including the Channel Island Co-Operative Society, which reportedly spends £1 million annually on produce from the business, plus wholesale and foodservice.
Graham Le Lay, president of the Jersey Farmers Union, said: "It was a shock and very saddening to hear this news, as it's a well-run, long-established business with a dedicated workforce. They were the main player, and it shows how it's very difficult for companies in Jersey to remain competitive, as there are very little export opportunities.
"It's too early to know whether the land would become available, but we're talking with other growers to see if they would be able to pick up slack that would be left over."
As for Bartlett's future in Jersey, Barker added: "Albert Bartlett has invested over £40m in Jersey, and remains completely committed to the long-term, sustainable future of the Jersey Royal business."