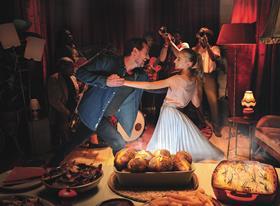 Albert Bartlett has launched a new multi-million pound campaign with a new TV advert to premiere during Emmerdale, as well as reduced plastic packaging.
The 40-second commercial sees a father and daughter cook up a meal using Albert Bartlett spuds, to the soundtrack of James Brown's classic "Papa's got a brand new bag".
The company has also introduced lightweight plastic bags, with its 2kg bags now using 20 per cent less plastic, and can be recycled with shopping bags at larger stores.
Designed by Tynan D'Arcy, the bags also feature an on-pack flash to tie in with the integrated campaign – a trumpet device with the line, 'grab a brand new bag today'.
Albert Bartlett's head of marketing, Michael Jarvis,said:"The new campaign focuses on the shared joy of cooking and of creating delicious meals using quality ingredients such as Albert Bartlett potatoes.
"It promotes our family values as well as tying into our continuous programme of environmental improvement.We are using less plastic for the 2kg Rooster and Elfe bags and the material saved in a year would make enough bags to stretch by road and ferry from Edinburgh to Milan.
"The company is rolling out the thinner plastic out to all suitable products for 2020. We're working hard to reduce our environmental impact and here's a positive step along the way."
Albert Bartlett's campaign was developed by Edinburgh-based creative agency Guy & Co.
The commercial was produced by Infinite Content and directed by experienced music video director Caswell Coggins, who has worked with a diverse range of clients such as Hermes, Xbox and McDonalds, while choreography is by Supple Nam.
Albert Bartlett said the collaboration between Nam and Coggins helped create "infectiously feel-good moves that viewers will want to try out themselves in the kitchen".
Guy & Co's client services director, Cat Summers, said:"We're thrilled to be launching this new integrated campaign for Albert Bartlett, which builds on the quality credential expertly established through the brand's associations with top chefs but marks a step-change in its communications into a more emotional territory."