Extra item added to fruit and veg promotion to help raise funds for charity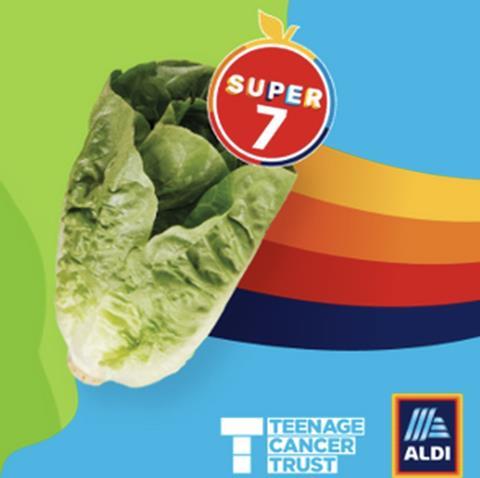 Aldi is renaming its Super 6 fruit and vegetable promotion as Super 7, with a proportion of profits from the seventh item in the range being donated to its charity partner, Teenage Cancer Trust.
The change will impact all stores across the UK over the next few weeks.
From Thursday, the Super 7 range will now include a little gem lettuce and once purchased, 7p from every pack will go towards supporting the charity.
Teenage Cancer Trust funds specialist nurses and youth support co-ordinators to help get young people through cancer.
The supermarket is also selling new reusable shopping bags as a Specialbuy to raise further funds for the charity, which have been designed by a young person who has been supported by Teenage Cancer Trust.
Liz Fox, sustainability director at Aldi UK, said: "Teenage Cancer Trust does such a vital job of caring for young people affected by cancer, and our new Super 7 campaign aims to raise awareness of all that they do.
"Without donations they won't be able to make a difference to so many young lives, and we are incredibly grateful to our colleagues and customers for helping us in our fundraising efforts so far for Teenage Cancer Trust."
Aldi has raised over £8m for Teenage Cancer Trust since partnering with the charity in 2017 and is now well on its way to hitting its target of raising £10m by 2027.