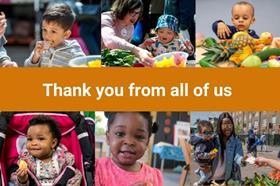 Fresh produce voucher supplier Alexandra Rose Charity stated it was "blown away" by the British public's generosity after surpassing its £30,000 Covid-19 Fundraising Appeal target.
The 106-year old charity provides vouchers to low-income families to spend on fruit and vegetables. The Rose Vouchers can be spent on fresh produce at market stalls across London, Barnsley and Liverpool.
By working with the market traders, the project also benefits local markets, helping to ensure economic vibrancy through encouraging regular trade, and so maintaining local markets as important sources of healthy low-cost food.
The charity raised £31,304 plus and additional £1,758 in Gift Aid after just a week.
The milestone achievement is another example of the amazing efforts by the fruit and veg industry to keep healthy fresh produce in family fruit bowls, despite the hurdles and challenges of the coronavirus crisis.
With food distribution charities under greater pressure during coronavirus lockdown measures, the organisation said the money raised will help increase fruit and veg consumption across the country.
Alexandra Rose Charity chief executive Jonathan Pauling said: "We're thrilled to have reached and exceeded our £30,000 target for our Covid-19 Fundraising Appeal, to support more families on low incomes to access fresh fruit and veg in their communities.
"As a result of the Covid-19 crisis, more families than ever are struggling to access healthy food for their children. Many families have lost their incomes and are finding it harder to get the food they need.
"Unfortunately, as the economic impact of the crisis continues to take hold, many more families will be at risk of food poverty and will struggle to access a healthy diet. We expect demand for our work to increase significantly this year.
"Through this funding, and recent grant income that we have secured, we aim to support 1,000 extra families over the coming six months, to help themgive their children the healthiest possible start."
To learn more about the Alexandra Rose charity clickhere.