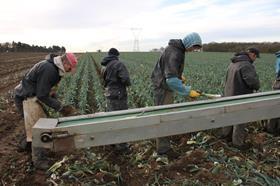 The Association of Labour Providers has launched anExtra Workers Needed Portalto supportthe foodsupply chainto addresscriticalworker shortages.
Despite rising unemployment figures, ALP's recent labour supply survey identified that 92 per cent of food growers and manufacturers believe there will be insufficient critical workers to meetthe food supply chain's needs in 2021.

Labour challenges are being exacerbated by higher Covid-related absence rates, and ALP said the new portal is one way it is helping the food supply chain meet the challenge.
Any food business that needs extra workers can post their requirementsfor free on the portalto be contacted byUK-wide and localGLAA-licensed ALP labour providers that can supply them.
David Camp, ALP chief executive, said:"This portal is a quick and easy way for businesses to reach hundreds of licensed labour providers across the UK, maximising their chances of sourcing the right number and quality of workers at the right time.
"From a farm needing a few workers, to a food produceror distribution warehouse needing hundreds, the portal is freely available for all businesses to use."
Businesses can register to use the portalhere. This shortdemonstration videoexplains how it works.
Established in 2004, ALP is a specialist trade association promoting responsible recruitment and good practice for organisations that supply the workforce to the food processing, agricultural and wider consumer goods supply chain.