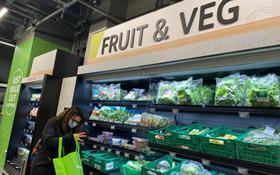 Amazon Fresh has opened its third UK store just six weeks after the first, with White City the latest part of London now covered by the retailer.
The White City store is smaller in size than the other two sites in Ealing and Wembley Park, but it features the same sensor and camera technology that allows shoppers to 'just walk out'.
Customers can simply place their groceries in their bag and be automatically billed as they leave, without the need to queue for a checkout.
The stores stock hundreds of new 'By Amazon' own-label lines, as well as its 'Our Selection' premium lines, sourced from UK suppliers.
In addition, there are branded items and products from Morrisons and Booths, which Amazon already has links with through its online delivery service.
Amazon said it plans to open more hi-tech grocery stores in busy shopping areas of London as well as other city centre locations. More launches are expected in the coming weeks.