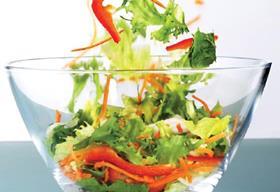 The prepared produce segment is one that many presumed would enjoy endless growth, but the category hasn't had it all its own way despite the continued opportunities presented in convenience.
The UK prepared salad and vegetable market experienced a 3.7 per cent value decline in the past year [Kantar, 52 w/e 6 October], with price deflation adding to the issue of fewer new shoppers entering the market and also buying less frequently. They did at least buy more salad per trip, but that wasn't enough to prevent a 1.2 per cent volume sales slump.
While that suggests a category with problems on its hands, the bigger picture still looks overwhelmingly positive. Waitrose's newly released Food & Drink Report 2020, for example, suggested that Brits are moving towards a simpler existence, with 20 per cent of us cooking simpler meals – a trend that would seem to play into the prepared sector's hands.
The report states that consumers are keen on shortcuts such as using frozen chopped vegetables and herbs, all as part of a larger plan to create more time for hobbies. "We know nearly half of Brits cook weekday evening meals in under 30 minutes and we're seeing a desire to remove the 'fog' of multiple decisions," says Stephanie Chafor, head of grocery buying at Waitrose.
Another report into the UK convenience market by HIM offers further positivity for the sector. Underlining the fact that health is a mega trend in the FMCG industry, it stresses that consumers are more mindful of their health than ever and are making healthier food choices. That plays well with a category designed to make life easier for shoppers.
It's not all roses, however. Another mega trend – the war on plastic – is a direct threat to the prepared produce category, where packaging is essential to keep products fresh. Describing the plastic agenda as the "largest impact on retailers and suppliers that has been seen in decades", HIM says shoppers have become more aware and vocal about what they expect to see in their local and convenience stores.
As retailers experiment with selling more produce loose, the convenience sector will need to find imaginative ways of presenting pre-cut and prepared produce so as not to lose the ethical shopper. That may need to come in the shape of modern, more easily recyclable plastics.
With the core consumers of prepared salad and veg being adults in the 35-54 age bracket, it would also be smart to attract younger consumers into the fixture to get the category back into growth. According to HIM senior insight manager Blonnie Walsh, the convenience sector is failing to meet the needs of younger consumers, with the proportion of under-34s declining two percentage points in the last year and younger shoppers underindexing in the convenience channel. A wider range of food-to-go options targeted at specific meal occasions could help reverse the trend, Walsh suggested.
A mixed bag for the sector, therefore, with no easy answers as to how to take advantage of what is still undeniably a market of opportunity.