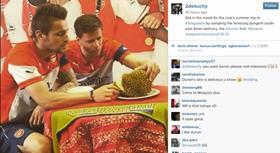 Arsenal starsMathieu Debuchy and Wojciech Szczesny have posted a picture of themselves braving some infamous durian fruit.
The photo of the footballers, posted on Debuchy's Instagram account yesterday (14 May), doubled up as a way of promoting the club's upcoming tour to Singapore, where the fruit - renowned for its potent smell - is popular.
In a separate story involving the same fruit, two Jersey firefighters crews and a Jersey Gas representative responded quickly to an alert about a potential gas leak at a block of flats.
The property was searched, but no gas leak was found, with the crews realising that the gas-like stench was coming from some durian fruit belonging to the residents.