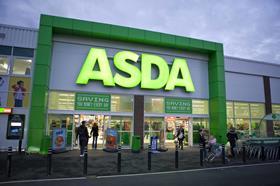 Asda's US owner Walmart has confirmed it is considering selling shares in Asda to a "third party" as well as floating it on the stock market.
Walmart revealed it was in discussion with 'a small number of interested parties' over the sale of Asda shares.
Interest in an initial public offering (IPO) was first revealed last year when Judith McKenna, chief executive of Walmart's international business, told Asda staff that it was "seriously considering" an IPO.
Reports have suggested Walmart, the world's largest retailer, is keen to sell its majority stake in the British retailer, which has posted underwhelming recent results, largely down to its George clothing range.
The supermarket's food products have performed well however, with sales of its Extra Special range up five per cent year on year.
The news comes less than a year after the UK's Competition and Markets Authority blocked a controversial merger between Asda and Sainsbury's.
In a joint statement from Asda and Walmart, the two companies said: "Walmart firmly believes that an IPO is an attractive long-term objective for Asda. Asda is a great business with a clear strategy for the future and Walmart is committed to ensuring it has the resources and support it needs to deliver that strategy.
"Walmart has a clear international strategy around 'strong local businesses, powered by Walmart' – which involves a number of different ownership arrangements depending on the needs of its different markets.
"Following inbound interest Walmart and Asda can confirm that we are currently considering whether there is an opportunity for a third party to invest in Asda, alongside Walmart, in order to support and accelerate the delivery of Asda's strategy and position Asda for long term success.
"Together, we are in discussions with a small number of interested parties who share Walmart and Asda's commitment and passion to growing the business – and who share our values, both for our customers and colleagues.
"No decisions have been made and we will not be commenting further on these discussions. If or when we decide to pursue this opportunity further our first priority will be to share more detailed information with our colleagues."