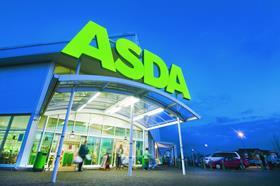 Asda plans to move into the convenience sector via a new trial in petrol station forecourts.
The supermarket announced that it is stepping up its 'test and learn' strategy with a number of leading brands that it said would complement its existing customer offering.
The strategy, which launched last year, will now see Asda enter the convenience market through a trial with forecourt operator EG Group. It comes following a shift in customer behaviour brought on by the pandemic, with an increasing number of shoppers looking to complete multiple shopping 'missions' on a single trip.
The convenience proposition is intended to provide shoppers with greater access to the supermarket's products and competitive prices, it explained. The new offer, branded 'Asda On the Move', will initially be trialled at EG Group fuel station forecourts in Ashby, Leamore and Primley in the Midlands.
The trial of a convenience proposition follows the launch of Asda's partnership with Uber Eats in July, which has now been expanded to 25 stores. Asda is also piloting a trial with online retailer Music Magpie in five stores in the north, as well as collaborating on an in-store concept with B&Q and extending its partnership with Claire's.
Preyash Thakrar, Asda's chief strategy officer, said: "Our partnerships strategy is focused on making our busy customers' lives easier. That means offering convenience when they visit our stores by bringing in complementary brands to help them complete more shopping missions in one location, and convenience that makes our great value products more accessible in local communities. We anticipate working with more businesses who share our passion for delivering value for customers in the coming months."