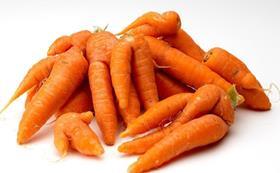 The UK's first supermarket 'wonky vegetable' box has gone on sale at Asda.
The retailer claims that the box contains enough wonky produce to feed a family of four for an entire week for just £3.50.
The Guardian reports that the Asda box is filled with in-season winter vegetables and salad ingredients at a price that is 30% cheaper than standard lines.
The vegetables - currently carrots, potatoes, peppers, cucumber, cabbage, leeks, parsnips and onions - have been selected from farmers' crops because they are misshapen, have growth cracks or are smaller or larger than average.
The produce is washed, The Guardian reports, but the discount is there to reflect the fact that customers may need to spend extra time peeling it, or because they might not be able to use the whole vegetable.
Asda introduced imperfect fruit and vegetables into its stores in January 2015 as part of its permanent range in a move championed by chef Jamie Oliver and farmer Jimmy Doherty.
The new vegetable box utilises produce sourced from Watts Farms, and is on sale in 128 stores across the UK.
"Our shoppers absolutely love wonky fruit and veg and we've seen sales steadily increase over the last year," Ian Harrison, Asda's technical produce director, toldThe Guardian.
In December, Morrisons reported brisk sales of potatoes and carrots from a trial of sales of wonky seasonal vegetables in stores in Yorkshire and the north-east.