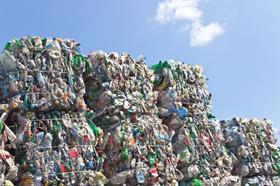 Plastic pollution is being targeted by the government after the new Environment Bill arrived in parliament today.
The Bill creates new powers to stop the exports of polluting plastic waste to developing countries, introduce plastic use charges as well the power to set legally binding environmental improvement targets.
The government says it also will have powers to introduce bottle deposit return schemes, and create more consistent recycling approaches, and the ability to require producers to take more responsibility for the materials they put into the market.
New legislation in the Bill also requires the government to conduct a review every two years of significant developments in international legislation on environmental best practise.
Environment secretary Theresa Villiers said: "We are facing climate change and our precious natural environment is under threat. We need to take decisive action.
"We have set out our pitch to be a world leader on the environment as we leave the EU and the Environment Bill is a crucial part of achieving this aim. It sets a gold standard for improving air quality, protecting nature, increasing recycling and cutting down on plastic waste.
"This will build on the UK's strong track record as thefirst major economy to commit to reach net zero emissions by 2050and will drive further action in this super year for the environment, culminating in the UK welcoming the world to the COP26 UN Climate Change Conference in November in Glasgow."
The bill also sets out measures to improve air quality, with a commitment to set an ambitious, legally-binding target to reduce fine particulate matter, and a mandate to recall vehicles and machinery that do not fit environmental standards.
The government will also have the power to direct water companies to work together to meet water demand and make planning more robust.
There is also legislation on establishing Local Nature Recovery Strategies, strengthening the duty on public authorities to enhance biodiversity.