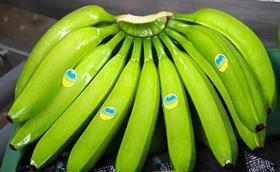 BanaBay has secured a contract with a new customer in the Middle East.
The Hussain al Qurashi Group has just taken delivery of four containers of premium BanaBay bananas.
The Middle East is a key focus for UK-headquartered BanaBay, as the region has been identified as having high purchasing power and a population of habitual fruit buyers.
The Hussain al Qurashi Group is a leading food business in the region, sourcing products from Europe, Africa, North America, New Zealand, Australia, China, India and Pakistan, and exporting to the UAE, Saudi Arabia, Bahrain, Kuwait, Oman, Qatar, Yemen, India and Pakistan.
With more than 25 fresh produce outlets in the UAE, the group supplies all leading supermarkets and hypermarkets in the region.
Harley Williams, business development manager for BanaBay, said: "This is an exciting new partnership in Saudi Arabia which again demonstrates the expanding reach and development of the BanaBay brand across the globe."