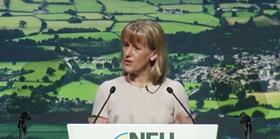 NFU president Minette Batters has called on government to match fund AHDB's £60 million levy and expand the pilot Seasonal Agricultural Workers Scheme to 70,000 by next year, at the NFU Conference today.
In her opening speech at the annual conference in Birmingham, Batters made a series of wide-ranging demands from government, starting with an impassioned plea against the accepting lower standards on food imports, which she lambasted as "morally bankrupt" and "insane".
She also criticised the "irony" of government efforts to boost British fruit and veg consumption while limiting seasonal worker numbers, as well as importing fresh produce from water-stressed countries.
Making a case for a farming "revolution" she called on government to match fund the Agriculture and Horticulture Development Board to bolster technology and data, as well as open agricultural trade talks.
"The AHDB must focus on marketing the great story of British food, and our plea is for government to match fund our levy of £60m to deliver a transformed AHDB, modelled on the Irish Bord Bia food board, providing access to new technology, research and development, and crucially owning our own data and evidence so that we can benchmark ourselves with the rest of the world," Batters said.
"AHDB must also be more ambitious on opening up new export opportunities to British farming around the world as well as making sure we remain the number one supplier of choice in Britain. And lets make sure Crown Commercial Service contracts are committed to British sourcing for our schools, hospitals, prisons and Ministry of Defence. What is government waiting for?"
Batters reiterated NFU demands for a trade committee to oversee post-Brexit trade negotiations, and expressed concern that Michael Gove's prior commitment to upholding UK food standards had been rowed back by the current cabinet.
Batters continued: "I know that this will test the moral compass of some in government and there are going to have to be some trade-offs. It would be a pipe dream to expect every country in the world to operate to the same rules and regulations; what standards do we accept, what is unacceptable?
"That's why it is vital there is a specialist body of experts setup to oversee trade regulations regarding agriculture and food, a trade and standards commission. It is vital we have experts that ensure these regulations are listened to."
Addressing horticulture, Batters called for bold new water infrastructure plans to help increase fruit and vegetable production in the country and become less dependent on imports.
"We currently produce only seven per cent of the fruit we eat and only 53 per cent of our vegetables. We import the rest from some of the most water-stressed parts of the world like Israel, Chile and Spain.
"We have a bountiful supply of water yet we ask the rest of the world to use their scarce water supplies to produce the food that we could and should be growing at home. We can and should drive a horticulture revolution in support of health and global environment."