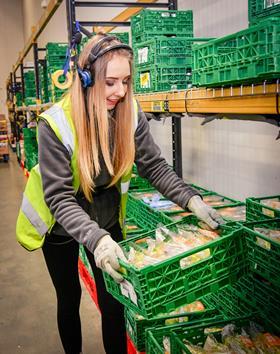 To many people on Scudamore Road, Leicester, the Central England Co-op sites are nothing more than just another set of gigantic warehouses.
However, throw open the doors and look behind the scenes and you can see the massive amount of work undertaken by staff to supply hundreds of its own stores across 16 counties, as well as several other independent co-op societies, 24 hours a day, 364 days a year.
Over 300 workers work out of the Food Distribution Centre, which is spread over 120,000 sq ft and is the equivalent size of six Olympic swimming pools.
Just a few yards down the road, you can find the 42,000 sq ft Chilled Distribution Centre, which supplies everything from turkeys and pork pies to double cream and fruit.
On average, the sites combine to deliver over 30 million cases of products every single year.
This summer, the Chilled Distribution Centre, dealt with 13,734 bags of mixed leaf salad, 16,790 iceberg lettuces, 33,227 cucumbers, 16,858 punnets of raspberries, 40,942 punnets of strawberries and 15,146 punnets of blueberries.
A total of 60 vehicles cover 2.7 million miles every single year delivering all the goods.
The hubs also play a key role in the ongoing efforts by the retailer to reduce its impact on the environment by recycling 345 tonnes of cardboard every single month from stores across Leicestershire and beyond. It also recycles 3.5 million green food trays every year.
Robin Farrell, head of distribution and logistics at Central England Co-operative, said: "It's been an unprecedented year with the surge in demand from shoppers and our dedicated, hard-working colleagues are busy getting everything out to stores to ensure everyone has what they want for an enjoyable Christmas and beyond."
Work at the site ranges from planning to picking and the Covid-19 pandemic has seen Co-op have to implement major changes to keep colleagues safe and shelves stocked.
As demand soared following the outbreak and the introduction of a nationwide lockdown, volume levels at the hub soared by between 20 and 30 per cent, which required the current team to pull together and work around the clock to make sure they remained safe while ensuring stores remained stocked.
This huge effort was supported by increasing colleague numbers by between 20 and 25 per cent, as well as bringing in extra equipment to ensure demand could be met and putting in place social distancing and hygiene measures.
Lee Dundee, distribution warehousing manager, said: "We saw record volumes across all of our distribution centres during this uncertain time.
"One of the things we are really proud of in distribution is our ability and agility to change in such a short space of time. We have experienced high volumes in the past but nothing ever like these volumes.
"To ensure we continue to provide vital support to our stores and our communities, we have recruited extra colleagues and had great support from our agency Encore, had great help from our partner Translink to increase our capacity and also increased the levels of equipment across our sites.
"Our colleagues have been showing great commitment by completing extra shifts, overtime shifts and putting themselves out to ensure our stores are stocked and our communities served. I cannot emphasise enough how phenomenal the whole team has been."
He added: "Our primary concern has been and always will be the safety of our colleagues and this has seen us have to create new delivery schedules coming out of the Chilled Distribution Centre. This has allowed the volume to be spread across seven days rather than six, therefore reducing the number of colleagues in any one area at any time.
"We have briefed the teams about social distancing, laid down floor markers highlighting two metre spacing, increased rest area facilities and have specific colleagues monitoring and highlighting measures and ensuring they are adhered to.
"We are proud to have, alongside our frontline colleagues in stores and funeral homes, played a vital role in serving our communities during this uncertain time."