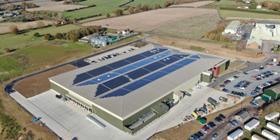 Berry Gardens has partnered with Peakto help increase responsiveness to retail customers, drive efficiencies within the business and help minimise food waste.
Thefirst phase oftheproject, which the company described as an industry first, is already underway, with the development of a Decision Intelligencesolutionto optimise criticalcustomer stock allocationdecisions.
This is a process that involves analysing 44 different grower-members' pick estimations for the week ahead and manually allocating them to the relevant customer order – a heavilydata-driven process that can take up to four days.
The process will be automated on Peak's Decision Intelligence platform and should take less than a minute, allowing for rapid responses to a changing market, a more efficient allocation, a reduction in waste and enhanced customer experience.
Decision Intelligence (DI) is the commercial application of artifical intelligence (AI) to the decision-making process. Peakis said to be pioneering thecategory, which applies AI to deliver against specific commercial objectives, reducing time to value for businesses implementing AI.
Live data
The project aims to provide theBerry Gardensteams with live data of available fruit from growers on a daily and weekly basis, and then allowing the business to provide more accurate decisions for customers, minimise food waste, reduce food miles by optimising the supply chain and cut out hours of manual data manipulation.
Rob Harrison, commercial director at Berry Gardens, explained:"Driving innovation while remaining environmentally conscious is integral to the future of our business and industry. When it comes to commercial planning we currently use a myriad of different systems and databases to hold valuable data which help us make critical decisions on a day-to-day basis.
'The analysis of this data is incredibly taxing and inefficient, so we are thrilled to be working with Peak to see how Decision Intelligence can help streamline these processes across a variety of different business functions.
"Ultimately, we hope by using such technology and innovation we will be able to provide our retail customers with a better, more accurate service, while equally reducing the environmental impact of our supply chain."
As berries are so perishable, timely decision making is imperative. Using such innovation, the supplier said that the ambition isthatDI will enable Berry Gardens to make quicker, more accurate and efficient decisions at the touch of the button. Teamsthroughout the businesswill be able to apply different variables to the system to help control the outcome of resultsindifferent scenarios, such as where there is a lot of availability.
Joseph Storyof Peakadded: "I have long held a strong belief that Decision Intelligence can make a real difference in the fresh produce industry. The team at Berry Gardens have the vision and appetitetodrive innovation and lead the industry forward through the applicationofAI to help them improve critical business decisions."
The project will be trialled throughout the 2022 UK season, with the intention oflaunching at scale across the company in 2023.