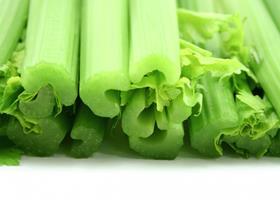 Celery juice, urban foraging, hydroponics and "seaganism" are just a few of the big trends, current and incoming, according to this year's Waitrose Food and Drink Report.
The annual report lifts the lid on shoppers' buying habits, providing a handy insight to current and future trends in the retail market, with a poll taken from 2000 people, alongside sales data.
Long seen as an old classic, celery is now part of the modern canon too as online health trends have made celery juicing a phenomenon, according to Waitrose.
"Almost a social media star in its own right, celery juice is omnipresent in the hands of influencers. Sales of organic celery at Waitrose & Partners are up 30 per cent while searches on Pinterest have risen 2,457 per cent," the report states.
John Lewis Partnership's resident "futurologist" John Vary also tipped unmanned grocery deliveries, as well as DNA-personalised dining to be common by 2025, with hydroponics helping increase global food production.
By 2030, Vary predicted: "Global population reaches 8.5 billion; almost all are internet users. Brain-computer interfaces expand human capabilities by allowing us to harness high-bandwidth data.
"Supermarkets hire Urban Foragers to help customers make use of their local natural ecosystems and discover new types of wild vegetation. Diets change to include more functional and high-performance ingredients, with more people increasingly turning to 'nature's medicine cabinet' to help manage medical conditions."
Frightening as it might sound, Waitrose's report highlighted that people are "rediscovering a spirit of compassion" however, expressed through a growing culture of food sharing, home cooking and even home growing.
"As well as home cooking, we're home growing, as this trend goes hand in hand with an increase in the number of people growing their own fruit and veg," writes Waitrose and Partners managing director Rob Collins.
"There's even been an accompanying boom in crafts and hobbies. Underpinning all this is the sense that life's pendulum is swinging away from materialism and towards a desire for people to share memorable experiences with loved ones."
With the rise in healthy eating, demand for extra-nutritious produce is pushing the fresh produce frontiers further afield and into the sea, with Waitrose reporting a rise in searches for sea produce.
"This year, many of us have been choosing ingredients from the sea. Delicious in their own right, kelp, algae, samphire and nori all add umami flavour to dishes. Searches for "aonori seaweed" are up 127 per cent on waitrose.com and "seaganism" – a vegan diet but including sustainable seafood has been gaining a following," the report stated.
Speed and convenience continue to grow in importance, with one in eight people doing an online grocery shop at least once a week according to Waitrose. The most prolific internet shoppers are 35 – 44 year olds, although 40 per cent of the population are "refuseniks", who never login for their food needs.
"We know nearly half of Brits cook weekday evening meals in under 30 minutes and we're seeing a desire to remove the "fog" of multiple decisions,' said Stephanie Chafor, Partner & head of grocery buying at Waitrose & Partners. 'People are looking for fewer ingredients, fewer steps and fewer decisions, especially mid-week.'
Finally, chillis are also on a hot run, with their popularity growing yearly, as well as chilli flakes becoming a common table condiment.
"There's an enormous range of chillies available and they represent a more complex flavour than just "hot". Some are fruity, some are smoky and some inevitably do have a proper punch of heat – like a Scotch bonnet or a bird's-eye," said Andrew Morris from Waitrose & Partners Cookery School.