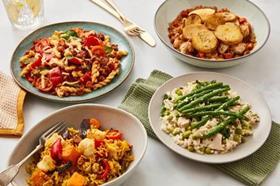 Independent retail chain Booths has launched a new range of veg-focused ready meals for health-conscious shoppers.
The Healthy Plates range is designed to be under 400 calories per dish, with less than three per cent fat and containing one portion of 5 A Day.
The range includes a Beef Ragu & Gemelli Pasta, Chicken & Green Bean Risotto, Chicken & Lentil Hot Pot and a Roasted Vegetable Biryani.
Product developer Kate Rathbone said ''We're absolutely delighted to launch our new Healthy Plates range. Each dish offers nutritional value yet is uncompromising on flavour and quality.
'We've worked with a fifth-generation local supplier, who we've worked with a number of years, to create the new meals. Myself and the development chef have nearly 50 years combined experience between us, and have worked hard to create a variety of products that meet our internal health standards and still taste amazing.''
The new ready meals have gone into all 28 Booths stores this month, priced at £3.95.
The healthy plates represent four of the 55 products developed in the past year as Booths continues to expand its own-label range.