Potato supplier is exploring electric vehicles as part of its roadmap to net zero
Branston is driving forward its plans to reach net zero by 2035 by trailing Volvo's FM Electric 4x2 truck as part of its fleet.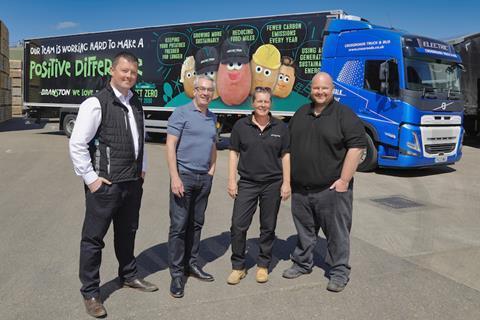 In a move described as one of the first trials of its kind in the UK, following two years of research the potato supplier has started a one-week trial of an electric-powered (EV) truck, with Crossroads Truck and Bus, the truck dealer for Volvo.
Branston is said to be one of the first businesses in the UK to do so in a real-world setting. The aim is to explore the mileage capabilities, charging practicalities and driving performance. The vehicle will be used to support both distribution centre deliveries and farm pick-ups.
Simon Telfer, HR and logistics director at Branston, said: "A key part of our transport strategy is ensuring Branston's transport not only works for us now, but in the future. As a business we have ambitious goals to reach net zero and we're passionate about delivering this for the transport section.
"Having researched the most viable alternative fuel options, we feel electric powered is the most practical for our needs. We approached Crossroads Truck and Bus Ltd back in 2021 and started working together to bring this trial to fruition.
"The trial will involve one truck, which has been delivered from Sweden, being utilised across various functions to give us a broad understanding of which tasks it is most suitable for."
Charging ahead
Currently, the vehicle can travel approximately 300km on one charge of the latest model of battery before it requires recharging.
"By 2035 we're confident the batteries will have progressed to a point that our drivers can reach any location required and make a return journey without having to recharge, which is a key aspect of the feasibility of EV for Branston," added Telfer.
"This trial will allow us to understand any challenges, such as the charging and cost, and what improvements we'll need to make to transition our fleet within our timeframe. We know the vehicles aren't where we need them to be to transition our full fleet yet but the purpose of undertaking the trial is to see how it drives and how it impacts our operations."
The truck replicates the features and comfort of the traditional model currently used worldwide, but is powered by electricity with a charging time of 2.5 hours when using maximum wattage input. The team will use the vehicle across three different shift patterns to get a good reflection of its suitability.
Lindsey Burrows, driver trainer, will be responsible for supporting the transport team to utilise it as effectively as possible."EV is the future and the sooner we can get on board with seeing what options are out there, the better," Burrows said. "It's an exciting time to be working in transportation as so much change is happening. I'll be supporting the team in ensuring their training is up to date and they're comfortable with handling the vehicles, including the charging of them, which will be new to everyone.
"We're looking forward to seeing how the vehicles work and what the future of transportation looks like for Branston."