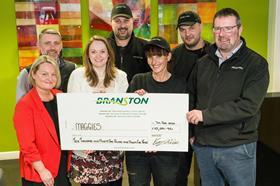 Branston has supported cancer care centre Maggie's Dundee with a generous donation of over £10,000 following a 500-mile group charity challenge.
Last year, more than 20 employees and supporters of Branston walked and cycled 500 miles around the Rhynd Roond to raise money for the centre at Ninewells Hospital in the city.
Kevin Imrie, general manager at Branston's Scotland site, said: "Maggie's is an incredibly important facility within the local area and we're delighted to have been able to donate to such a great cause.
"The team did a fantastic job of raising £6,661 for the charity, which we topped up with an additional £3,430 to help them hit the £10,000 target."
Branston took part in a number of fundraising events to reach the total figure, including joining in with the Great Scottish Tattie runs in Edinburgh and Perth where team members were sponsored to run a mile carrying a 25kg sack of potatoes.
The team also held a bake off, staff raffles and sold baked potatoes to help raise the funds.
Laura Boyd, centre fundraiser at Maggie's Dundee, said: "We are delighted to have received such a generous donation from Branston and want to thank all of the team and everyone involved for their fantastic efforts.
"It currently costs around £2,400 for the centre to be in operation for one full day, so these much-needed funds will allow us to continue supporting those who have cancer as well as their friends and family."
Branston is one of the UK's biggest potato suppliers – for leading UK retailers and wholesalers – as well as providing seed for potato growers.