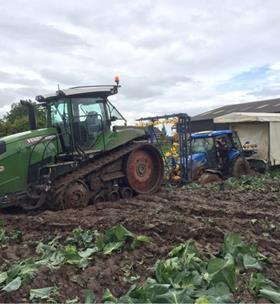 British brassica growers are considering switching to cereal crops, after two consecutive seasons of nightmare conditions have seen costs spiral.
British Growers' Association (BGA) chairman Jack Ward said there needed to be an "urgent review" on the sustainability of UK brassica production, as the losses mount for embattled growers, who have endured extreme rains this winter.
The BGA revealed several brassica crops will likely be running short right up to June, after major brassica growing regions in Lincolnshire, Yorkshire, Cornwall and Scotland suffered record autumn and winter rainfall.
Parts of Lincolnshire experienced half of its annual rainfall in the last three months of 2019, with the first weeks of 2020 not faring any better. Disease and waterlogged conditions have seen production levels pushed down dramatically.
Cauliflower, kale and Savoy cabbage will start to run short in February and March due to the excessive rain, according to the BGA, while late cauliflowers due for harvest in April and May will also be in short supply.
Ward said a recent meeting of UK brassica growers showed growers' confidence is at "rock bottom" following two seasons of production costs outstripping revenue, "forcing growers to ask difficult questions about the future".
Brassica growers are now considering ditching the greens for lower-risk cereal crops as a safer and more profitable alternative, with lines such as broccoli - which has high labour requirements - in particular danger.
"There is a cruel irony here. As we embrace the importance of vegetables in the diet and recognise the need to increase our consumption of vegetables and fruit, our brassica growers are contemplating exit strategies rather than increased future investment," Ward said.
'We need to rethink the supply model for vegetables. While cheap vegetables may look like an attractive proposition, some of the current pricing models fall well short of allowing growers to meet the true costs of production. Ultimately this is eroding our supply based and productive capacity. This is not where we want or need to be as we move into a brave new post-Brexit economy."