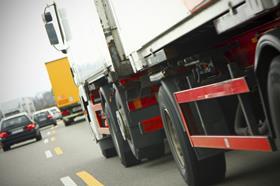 The British Retail Consortium has said plans for an alternative Irish border setup in the event of a no-deal Brexit would still "fall short" for trade between the countries.
The government is currently exploring new border arrangements between Northern Ireland and the Republic of Ireland that would allow the UK to leave the customs union, whilst preventing hard checks on exports between the two countries, which would violate the Good Friday Agreement.
An interim report was released by the Northern Ireland Affairs committee last week which suggested that alternative arrangements to the backstop could be up and running in three years if preparations start now.
The report suggests the use of "special Economic Zones" based on existing WTO exemptions, to enable cross-border trade to continue freely.
But the BRC suggested such a proposal would still leave several problems to be resolved.
Helen Dickinson, chief executive of the BRC said: "We welcome the efforts of the Alternative Arrangements Commission to find a potential solution to the challenges that Brexit poses to the Irish border. However, the options proposed by the AAC still fall short of a workable solution.
"Further answers would be required on vital issues such as VAT, sanitary and phytosanitary checks and rules of origin to provide assurance to consumers and businesses alike of a workable plan for frictionless trade."
The BRC's response to the proposals stated that other examples of close borders, such as Canada-US or Sweden-Norway, still posses checks on freight that would not fit with the Withdrawal Agreement.
They also refuted the report's claim that food fraud "would not be economic" for smugglers, writing that NI already has some of the highest levels of smuggling in Europe.
The report states: "In this interim report there is an assertion that currently used technology can solve the particular problems on the border. We do not consider this is supported by expert or other evidence and there are no examples of where this works completely in practice to the extent required by the UK-EU commitments in the Joint Report and the Withdrawal Agreement.
"The Northern Ireland Economy cannot be anyone's experiment. Technology must be proven to work before it can be offered as a complete solution."
Dickinson said that delays and checks at the border will have an "adverse" impact on consumers across the UK, resulting in higher prices and less choice.
"A No-Deal Brexit on 31 October comes at a time when the UK is importing a significantly higher proportion of food from the EU as compared with the summer months. Retailers will also be stocking up for the peak Christmas trading period, meaning warehousing will already be at capacity," Dickinson said.
'It remains imperative that the UK avoid a chaotic no deal in October, and it is up to politicians of all stripes to come together to find a solution that ensures the UK continues to benefit from frictionless, tariff free trade into the future.'