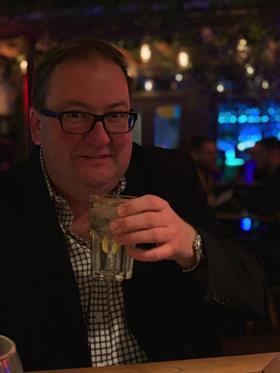 Dorian Perry has founded creative agency Breaking Bud to inject some much-needed chemistry into the fresh produce industry's marketing effort.
The ex-Albert Fisher and Arbor International man has an impressive track record in creative marketing that has seen him work with a wide variety of clients to launch new products and fresh ranges, or to revamp "zombie" brands.
His team at Breaking Bud will combine strategy, design, marketing and digital services to create ideas that address the challenges and satisfy the needs and goals of its clients.
Perry was behind the creation and launch of the phenomenally successful Tenderstem brand for Sakata and the Waste Not juice range, which launched in Tesco last year. He was also instrumental in bringing the Two Farmers crisp brand to market, registering the trademark for two Herefordshire farmers who wanted to manufacture crisps in biodegradable packaging, and then launching the brand – now on sale in Whole Foods, Holland & Barrett, Bayley and Sage and leading delicatessens.
Perry and his team also rejuvenated the Jaffa brand in the UK, creating a venture brand that revitalised sales in Tesco stores and pioneering a number of standard plus ranges that had a significant, positive impact on margin. Another successful recent venture was the rebranding of SH Pratt Group, where Perry introduced a strategy of dividing the company into clearly defined business units while creating an umbrella group image.
Products from apples and sprouts to chocolate and sparkling wine have also benefited from Perry's touch and Breaking Bud will see him continue the groundbreaking work.
He says: "I am on a mission to de-commoditise the fresh produce industry and revive flatlining sales through the creation of distinctive marketing strategies designed to leverage a margin advantage for our clients. Through the creation of intellectual property, design and marketing we can increase the margins of both our clients and retailers.
"I have worked with retail and supply chain customers around the world, and created marketing strategies from Hamburg to San Francisco," adds Perry. "Whether you are a supplier or a retailer, if your sales are flat for any reason, you obviously need to find the way to shift them up again. Lateral thought is often the way to differentiate your product and levitate it away from commodity status.
"To establish a product or brand, you must communicate with as many people as you can through the most relevant media. You don't have to spend millions to make an impact, and the fact is there for all to see – the produce industry just doesn't tell enough people what its messages and values are."
Breaking Bud aims to use its own brand of creative science to inspire its clients to change all that.