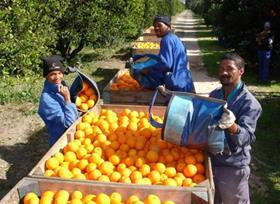 Brexit could harm trade between the UK and Africa, with fears on the continent that certain African countries could lose out to larger markets when the UK leaves the bloc.
Several African nations, including South Africa and Kenya, send significant quantities of fresh produce to the UK and there are concerns that tariffs could rise and exporters in certain countries could lose the preferential access to the UK market that they currently enjoy through Britain's membership of the EU.
This issue was raised by University of York political researcher Peg Murray-Evans in a recent blog post, following a trade visit to South Africa and Namibia last week by the minister for trade policy, Lord Price. It was the first trip to Africa by a minister from the Department for International Trade since the department was created.
In her blog, Murray-Evans, who specialises in international development in Africa, called for the UK to preserve current levels of market access for the five members of the Southern African Customs Union (SACU) – Botswana, Lesotho, Namibia, South Africa and Swaziland – plus Mozambique.
"Like most African countries, the five members of SACU plus Mozambique currently enjoy preferential access to the EU market for their exports," she wrote.
"When the UK exits the EU it will cease to be party to this agreement and the southern African countries will lose their preferential access to the UK market unless alternative arrangements are put in place."
The UK government has pledged to secure existing tariff-free market access for Lesotho and Mozambique through a reincarnation of the EU's 'Everything but Arms' scheme as they are among the world's 48 Least Developed Countries (LDCs).
However, the others – Botswana, Namibia, Swaziland, and most notably in fresh produce terms, South Africa – are in a more uncertain position – and this could harm trade, as well as the capacity of the UK's African trading partners to develop.
South Africa could face a tariff rise on key exports like grapes and citrus if current market access is not replicated, Murray-Evans warned.
In her article Murray-Evans called on the UK government to:
1. Engage with developing countries that currently enjoy preferential access to the EU market well before Brexit negotiations end;
2. Explore alternatives to the current patchwork of Economic Partnership Agreements (trade deals between the EU and African, Caribbean and Pacific countries) and ways of tackling non-tariff barriers to trade with developing countries;
3. Acknowledge the complexities of African regional integration and look into ways to limit post-Brexit disruption to trade;
4. Assess how new trade arrangements with other developing countries will impact existing ones.
"If the UK now moves swiftly to take these four steps and acknowledges the complexities of African trade then they could avoid Brexit having damaging effects," Murray- wrote.
"Failure to do so could mean new barriers to trade from vulnerable African economies and disruption to African regional integration."