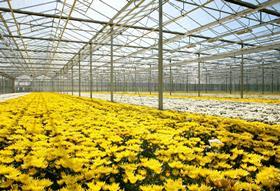 This summer British Flowers Week will return for a fifth year, celebrating the British cut flower industry and the independent florist.
Running from 19 to 25 June, the week-long campaign is devoted to raising the profile of British flowers and floristry, with flower farm open days and floristry workshops scheduled in city centres, stately homes and gardening shows.
The BritishFlowersWeek hashtag is set to be trending once again as images from the Flower Market Photoshoot showcase the best of British floristry online.
"British Flowers Week is a dedicated opportunity for us to celebrate all that is truly exceptional about British flower growers and the independent British florist," said Helen Evans of New Covent Garden Flower Market, which organises the campaign.
"During the week, our home-grown florists show the true beauty of British flowers and foliage at their very best," she added.
Evans will be hoping to build on the success of last year's event when over 50 workshops, talks, pop-up shops and floral demonstrations took place up and down the country.
There were British cut flowers in Downing Street, in stately homes and in RHS gardens, while on social media the event hashtag reached over 8.7 million people on Twitter and over 3 million on Instagram.