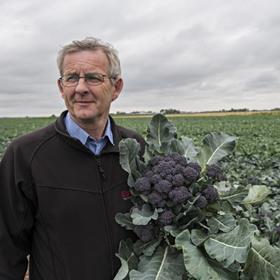 New broccoli variety Burgundy Broccoli is entering its second season after a successful first year on supermarket shelves.
Developed by Elsoms Seeds and produced by Staples Vegetables, Burgundy Broccoli is a thin-stemmed broccoli variety, with a distinctive burgundy coloured head.
Over the next three months, 100 hectares of land - equivalent to around 187 football fields – of Burgundy Broccoli crops will be sown, grown and harvested on the Lincolnshire Fens.
This land provides the ideal location for brassica production, home to alkaline soil and nutrient-rich earth.
Burgundy Broccoli's seed producers, growers and harvesters are well prepared for the UK season ahead, working strenuously to ensure crop production is maximised and the UK's first no-waste whole-head brassica is in abundant supply across the country.
Dave Clay, brassica crop manager at Elsoms Seeds, said: "Broccoli products are consistently some of the most widely-enjoyed vegetables in the UK and we're thrilled to have celebrated a successful launch to the market for Burgundy Broccoli.
Feedback from the retailers has been fantastic, which is testament to the hard work and determination of the product development team, to create a quality product grown right here in Lincolnshire, the perfect setting for brassica production.
"Embarking on our second year is a welcome opportunity for the team and we hope to build on the success of our first 12 months.'
To maximise crop levels and production, Burgundy Broccoli goes through different phases of growing and harvesting, split between production plants in both Spain and the UK.
Aligned with the temperate seasons and UK's rising climes, growers begin sowing seeds in the UK from April – in time for peak season which falls in mid-August until September. The UK's harvest period begins in June, continuing through until December.