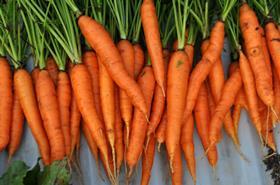 British Carrot Growers Association (BCGA) says it is busy organising this year's Demonstration Day, a carrot producers' event to be held on 6 October in Scotland.
Tompsett Burgess Growers will host the industry show in a field just outside Coupar Angus from 9am to 3pm.
Building on the success of the 2021 Demonstration Day, this year's event will attract all those involved in carrot production from growers to the ancillary industry, BCGA said.
'Not only will demonstrations of the latest varieties be available to attendees, but we are also offering frost resistance, crown rot and breakage trials for the varieties on show,' it said in a press release. 'Several agronomy plots are available, details of which will be released in the coming weeks.'
The event attracts an excellent exhibition from the supportive wider industry to provide a great interactive opportunity for those who attend, BCGA said.
To find out more about exhibiting or having an agronomy plot at the event, contact admin@britishgrowers.org
Entry is free of charge and refreshments will be provided. The event is registered for both BASIS and NRoSO points which will be available on the day.