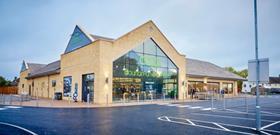 The UK's largest independent co-operative, Co-op Midcounties,grew like-for-like sales in its food stores by 3.3 per cent in December on the back of an enhanced seasonal range that included a record number of locally-sourced products.
The member-owned society, which operates 180 convenience stores and 45 larger supermarkets in central and southern England, reported good growth across all regions and outperformed the wider grocery market in the 12 weeks to the end of 2019.
In the week leading up to Christmas Day, sales of its ranges of over 150 locally sourced food and drink products were up 28 per cent on the same period in the prior year.
A dozen first-time local suppliers added their products to the range and proved popular with customers, according to the chain. The Society's Christmas pre-order service was also extended to all eight of its larger-format food markets, which offer the biggest Best of Our Counties range.
Rupert Newman, Co-op Midcounties' chief retail officer, said: "Our excellent seasonal performance is a credit to the hard work of our colleagues and suppliers who worked so hard to provide our customers with the very best products and service during December.
"They include all of the valued suppliers that contribute to our Best of Our Counties range of locally and ethically sourced food and drink products. Our stores offer a number of products that are sourced from within the store's home or neighbouring county, which reduces food miles and means that our customers know exactly where their food comes from and how it has been produced.
"The performance of our locally sourced ranges was a particular highlight in December and has strengthened our commitment to further increase the number of products we buy from locally based independent suppliers."
Midcounties also supports 40 local food banks and donated 100,000 grocery products by the end of December.