Tieup with basketball teams brings 12,000 free meals for kids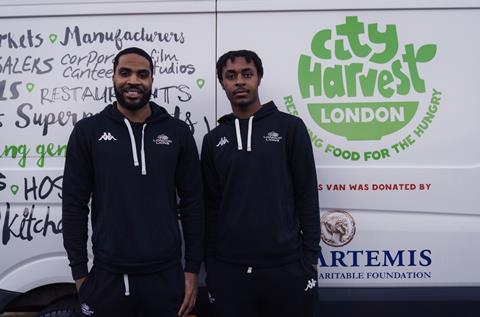 Basketball team the London Lions has announced a partnership with food distribution charity City Harvest to provide free meals for children.
The Lions waived all attendance fees for their EuroCup fixture at the OVO Arena Wembley on 1 November, instead favouring donations to the charity. The total amount raised from the game provided over 12,000 free meals for children supported by City Harvest.
Recent research by the London Assembly found that London boroughs make up five out of the top 10 UK areas with the highest level of child poverty. Child food poverty rates in Tower Hamlets, East London are close to double the national average, and further research from the Food Foundation has found that food insecurity has doubled nationally in 2022.
Sarah Calcutt, CEO of City Harvest, said: "City Harvest is delighted to be the new charity partner of the London Lions. As part of the fabric of London, City Harvest thrives on connecting key players with areas of need. We supply free food to many youth groups and schools running fit and fed programmes. These free community sessions encourage young people to channel their energy into sports and teamwork to develop key skills, agility and their overall health.
"We thank everyone for supporting us by making a donation so we can continue to offer nutrition to children who would otherwise not eat. So many families are struggling to feed their children right now; please help us to help them. It was great to see how many people donated at the London Lions game and it means that we are able to provide over 12,000 free meals for children. We are looking forward to our continued partnership with the Lions."
Lions player Jonathan Komagum said: "I grew up and lived in a place called Ferrier Estate which was in Kidbrooke and I attended Holy Family Primary School. I received free school meals when I was there because my father left when I was younger and so I was being raised by my mum and there were three other siblings so four children in total. Of course, my mum had four children to take care of and as a result of our circumstances we had free school meals.
"There is a lot of child poverty that is happening in England right now – caused by the cost of living crisis, prices going up and people not making enough money to allow them to get by. The crisis is very real and I feel that the London Lions partnership with City Harvest is a great thing as there are a lot of families in need for just the little things. When it comes to food, clothes, shelter, a lot families are finding it very tough, especially in London and hopefully this partnership will help that improve."
City Harvest is also running 'The Big Give Christmas Challenge – Feed a London Child' from 29 November to 6 December, during which time donors will have their donation doubled to City Harvest. That means for every £1 donated, the charity will get £2.