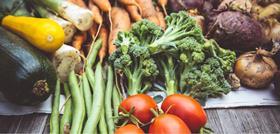 Office catering outfit City Pantry has joined with vendor partners to create food packages that companies can order to be delivered contact-free to their employees' homes.
According to City Pantry, which is part of the Just Eat Group, business owners are using the service to encourage their teams to share photos of their food boxes via internal company communications, share recipe ideas and even organise virtual Friday night cookalongs.
The 'Pantry Packages' service also gives businesses the opportunity to support the hospitality sector, with options including fresh vegetables, meal-prep boxes and sweet treats from providers like Dominique Ansel Bakery, Detox Kitchen, Spiers Salads and Sejuiced.
The tie-up comes as many people are working from home during the Covid-19 pandemic, but new research from the Institute of Employment Studies (IES)indicates that 55 per cent of UK workers have no experience working from home, and 35 per cent are experiencing a drop in motivation.
The IES survey suggests 33 per cent of workers are eating a less healthy diet and 60 per cent are exercising less. Half of the 500 respondents reported feeling unhappy with their current work-life balance and a third mentioned feelings of isolation and loneliness.
Ben Carter, managing director of City Pantry, said: "With the coronavirus pandemic leading to all but essential workers having to work from home, it is perhaps unsurprising that employers and employees are in some cases struggling to adapt to the new working environment.
'We have created these Pantry Packages to ensure employees can still feel connected - and for employers to help keep in touch with their people at this difficult and challenging time. Our Pantry Packages have been designed to give teams something special at home to brighten their day, while working to retain positive company culture, benefits at home, such as office catering and sweet treats."