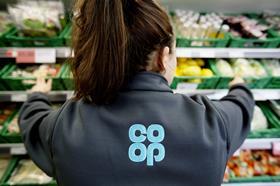 The Co-op has set an ambitious target to make 80 per cent of all its packaging recyclable by 2020.
The retailer is urging other retailers to follow its lead on developing new packaging and working with local authorities to improve levels of recycling.
The Co-op has already re-designed and simplified plastic packaging to make it easier for consumers to recycle and the business is working with local authorities to share best practice.
In September the supermarket chain became the first to sign up to the Plastics Industry Recycling Action Plan (PIRAP), which promotes plastic packaging recycling initiatives across throughout the supply chain. PIRAP aims to increase UK plastics recycling from 32 per cent to 57 per cent by 2017.
The Co-op has also called for the introduction of clear labelling to differentiate items that recyclers can't use to make it easier for consumers and recyclers.
Iain Ferguson, Co-op environment manager, said: "Our long term ambition is for all packaging to be recycled where it can be, and we are making a bold start by setting a target that, by 2020, 80 per cent of our products will have packaging that is easy to recycle."
Lee Marshall, chief executive officer at the Local Authority Recycling Advisory Committee (LARAC) added: "Packaging plays an important part in protecting products and preventing waste but when it has served its purpose we need to be able to recycle as much as possible.
"Having more consistent packaging makes it easier for local authorities to put in place the systems to collect it and to communicate with their residents.The sort of ambition being shown by the Co-op is great to see and we hope it acts as catalyst for the whole industry."
According to figures from the Co-op, two thirds of all plastic packaging used for consumer products in the UK is being sent to landfill or incineration, with only one third being recycled.
Only half a million of the 1.5 million tonnes of recyclable plastic waste created every year is being reused as intended. The problems lie with a lack of knowledge about which packaging can be recycled along with local authorities lacking the facilities to deal with it.
Commenting on the findings, Ferguson said: "It is shocking that such a small percentage of plastic packaging is being recycled, especially materials that are already easy to recycle like plastic bottles. We are concerned that so much still goes to landfill every year.
"We need to stop thinking about this plastic as a waste and start to use it as a resource.What is needed is a co-ordinated response to the problem. This should start with retailers and major brands listening to recyclers and developing packaging that is better for recycling."