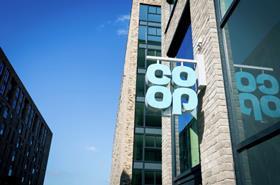 The Co-op is opening 30 new stores in the lead up to Christmas following recent growth for the retailer.
A £25 million investment has funded store openings across the UK inNovember and December, including sites at transport hubs, city locations and residential apartments, creating up to 500 jobs.
The expansion follows continued sales growth at the retailer, which saw year-on-year consumer spend rise by 3.6 per cent in the 12 weeks to 1 December.
New stores are opening their doors in places such as London, Edinburgh, Bristol, Cambridge, Salford and Sheffield.
Among other things, the new Co-opstores have a focus on fresh, chilled and healthy products; food to go; vegan and free-from foods; Fairtrade products; and meal ideas.
Stuart Hookins,Co-op's director of portfolio and development, said:"Ease, speed and convenience continue to rise in importance for today's time-pressed shopper – and, our focus is all about selecting the right location to deliver what our members and customers want, need and care about, conveniently."
All stores will run on 100 per cent renewable electricity and provide a funding boost to local community causes throughCo-op's membership scheme.
Through the scheme, Co-opmembers receive a five per cent reward on purchases of own-brand products, with the retailer donating a further one per cent to local causes.
Co-opalso offers a 10 per cent discount off groceries to TOTUM cardholders (the new name for the NUS Extra card) to support students during their studies.
Hookings said: "Connecting communities and bringing people together is at the very core of theCo-op, and every time an own-branded product is bought by our members, local community groups receive funding.
"We continue to look for new sites which support our ambition to operate at the heart of local life and enable us to give back, and create social value in our communities."
In September, theCo-oppicked up the Convenience Retailer of the Year and Food-to-go Retailer of the Year accolades at the Retail Industry Awards.
With plans to expand further in future and add to its list of franchisees, the Co-opis looking for freehold or leasehold commercial property sites of up to 5,000 sq ft and existing businesses with a net sales area of over 1,500 sq ft .